Gen JQB, Remove the Stigma ... We are Not Thieves & Plunderers!
People of Pakistan love and respect #PakArmy. Hundreds of soldiers and officers have laid down their lives for defence of Pakistan so that ordinary people can live peacefully in safe and secure environments. Nation is highly indebted, only Allah will reward them in paradise. Old parents, young widows and orphans of Shaheeds face daunting task to live with memories of loved ones. Army does its best to look after them, one of the steps include provision of housing assistance through plots at DHA (Defence Housing Authority) in major cities, DHA City Lahore was one of such projects, involving civilians for management of resources.
We are fully aware that there is zero tolerance in Army for corruption. In case of any lapse the strict accountability system comes into play to deal with the culprits strictly, obviously not much publicised in media. However rarely when some black sheeps and criminals use honourable title of Army to make money through corruption in semi military, civil setups like DHAs, then it is known to the public through the media. Unfortunately the military accountability system does not seem to respond as effectively as it does in internal military life. It is due to involvement of big fish, who use their power and influence to get away with it at little or no cost. One such example is Capt
(R)
Kamran Keyani , brother of General Keyani (retired Army Chief). Such are traders of blood of Shuhada who sell honourable brand name of Pak Army to make billions (Estimated Rs.16 Billions). He has escaped to Dubai and his brother Gen Keyani (retired) is allegedly protecting him.
The honour of Pak Army is very dear to the 0.5 Million in uniform, 2 Million Veterans and over 200 Million Pakistanis. We know that majority in military are contented with the emoluments and facilities provided by the Government. Their concentration is on their tough military life and mission, The Defence of Pakistan. When a tiny, very small number tries to indulge in mal practices, we feel deeply hurt. The civilian authorities are criticised for corruption, military is taken as a role model institution with discipline and effective internal system of accountability. People will not say Kamran Keyani is corrupt, whole institution will be blamed. It is said:
"Army senior officers are involved, Gen Keyani, the ex Army Chief is involved through his brothers acting as frontmen."
This is an abuse, it hurts 2 million veterans, it hurts 0.5 million in uniform, it hurts over 200 million Pakistani citizens.
A bad act by few will hurt every patriotic citizen of Pakistan. The writer did not invest in DHA City Lahore Project (Scam), [ 11,700 people invested] but he is an affectee, due to stigma being attached with the beloved institution due to bad act of few, and slackness in timely action by top brass against culprits.
It is not wrong to say that every serving or retired soldier and citizen who love Pak Army are affectees of this scam.
Dishonouring the great institution involved in war against terrorism internally and externally has negative effects on morale. It strengthens the enemy propaganda, hence writing this post, anyone who share these views can comment/share to send the message across for action by all concerned.
Gen Javed Qamar Bajwa, the Army Chief may intervene to, remove the stigma;


(1) Address the concerns of victims of "DHA City Lahore Scam" by making suitable/alternate arrangements.


(2) Use his authority and influence to take the real culprits and frontmen to task.


(3) Evolve a strong,internal accountability system so that in future no one dares to trade on blood of Shuhada and name of Pak Army.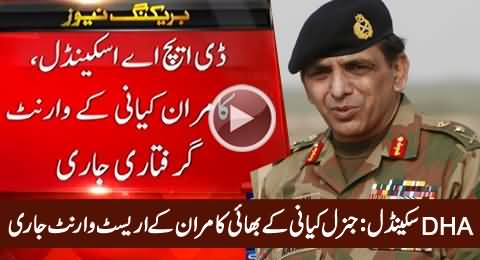 Why Kamran Keyani Brother of Gen Keyani involved in DHA Lahore scam has not been apprehended by NAB ?
Why NAB is now quiet on this issue while hundreds of innocent Pakistani suffer, robbed of their life time savings..... It is claimed that Kamran Keyani launched DHA City Lahore project which was not in knowledge of Gen Keyani then Army Chief. What a cruel joke!
All DHAs are under Army, Corps Commanders head the DHAs, who are appointed by Army Chief. So brother of Chief. indulging in scam of Billions using DHA Lahore platform without knowledge of Chief?
Only an insane will believe it!
If Chief didn't know he is incompetent not worthy of rank and appointment. If he knew, which is definite .... then he is party to this heinous crime against institution which brought him up, and people of Pakistan. Others could be mere puppets, frontmen.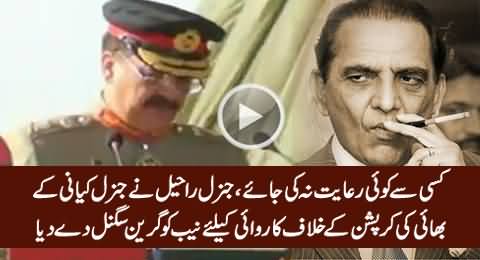 DHA City Lahore - Rs.16 Billion Scam
Billions of rupees have been pocketed by the culprits in the DHA City (Lahore) project, which was inaugurated in 2009 to facilitate the families of army martyrs, wounded and army soldiers by allotting them small or large size plots in recognition of their services. Kamran Kayani of Elysium Holding and Hammad Arshad of Globaco offered their services to facilitate DHA Lahore to carry out the project by acquiring land, but both failed to deliver plots to families of martyrs and general public after the lapse of many years.
According to NAB, Globaco signed an agreement with DHA EME in Nov 2009, agreeing to develop the DHA City Lahore on a tract of land measuring 25,000 kanals near Thokhar Niaz Baig. The firm managed to purchase only 13,103 kanals of land, and that too in a scattered form. Arshad collected Rs 15.47 billion from the public by issuing allotment letters, and later, transferred the money to his personal accounts. The accused used the funds for personal gains and invested them in other business ventures.
NAB said that because no meaningful development work was undertaken in the DHA City, the accused cheated the general public and the families of soldiers and martyrs by depriving them of their hard-earned money. Of the amount received by the main accused from the public, he spent only Rs 1.82 billion to acquire the 13,103 kanals.
There are more than 11,700 affected persons registered with the DHA, which claims that Globaco — now known as Orange Holding Private Limited, an offshoot of Eden Private Limited — "intentionally kept delaying the project and gave different options for more financial gains."
On the complaint of DHA officials, the national anticorruption watchdog (NAB) had launched an investigation against Hammad Arshad and Kayani due to their alleged involvement in the DHA mega corruption scam. The accused collected around Rs 16 billion from 26,000 people by deceiving them through a fake housing project.
NAB in a bid to bring Kamran Kayani back to the country has asked the Interior ministry to issue the red warrant of an accused allegedly involve in a multi-billion rupees Defence Housing Authority (DHA) scam.
Well-placed sources disclosed to Pakistan Today (news paper) that NAB has written a letter to the interior ministry of and sought the red warrant of Kamran Kayani in a bid to bring him back. They said the Interpol Pakistan has started procedure and it will soon write a letter to France-based Interpol headquarters for the repatriation of an accused allegedly involve in a multi-billion rupees DHA scam. And, Interpol headquarters will issue an arrest warrant of Kayani to 200 member countries, they added.
"Finding no option to make Kamran Kayani part of the necessary investigation, NAB has sought red warrants," sources said, adding that investigation of DHA scam could not be concluded without bringing Kayani back to the country.
Official sources said that NAB has initiated a process to bring Kayani back to the country through Interpol to make him part of the investigations in Rs 10 billion DHA scam. They said NAB has issued several notices to Kayani and asked him to appear before investigation team. However, he has so far ignored the notices and avoided appearing before the officials of NAB despite repeated efforts. Also, the process has been initiated following an order of the Lahore accountability court in this regard, they added.
Sources said that Arshad and DHA City Lahore project director Brig (r) Khalid Nazir Butt are in judicial custody. Only Kamran Kayani did not become part of the NAB investigation in DHA land scam.
Earlier, NAB Chairman Qamar Zaman Chaudhry (now retired ) told this scribe that NAB would soon seek the red warrant of Kayani from the ministry in DHA land scam. "NAB sent summons, notices and reminders to his residence in the country, but all met with the same fate as he did not bother to cooperate with the bureau, which led the bureau to get the red warrant issued against him for completion of investigation within a time frame." NAB chairman said.
When contacted to get updates regarding DHA land scam, NAB spokesman did not respond despite repeated phone calls and text messages.
It is worth mentioning here that Brig (r) Amjad Parvez Kayani, another brother of former army chief Gen Ashfaq Parvez Kayani, in a statement clarified that the ex-army chief had nothing to do with his brother's actions.
LAHORE - Many of the thousands of victims of Pakistan's biggest land scam case staged a strong demonstration at the Lahore Press Club Thursday, triggering traffic mess in the downtown. The protesters, including women and children, chanted slogans against the Defense Housing Authority, the "nationally recognised corporate" organisation involved in construction of houses by building communities with modern lifestyle. Thousands of people purchased files of plots by paying their hard-earned money as the authority announced the new housing project in 2009. More than 10,000 citizens are running from pillar to post to get plots in the new housing colony, notwithstanding they paid the price in advance several years ago. The national accountability court has been investigating the land fraud involving investment of billions of rupees. The protest demonstration continued for an hour amid traffic jumbles, although the protesters did not block the road. They were carrying banners and placards inscribed with slogans in favour of their demands. The posters could be read as "We want immediate relief and just want plots from DHA ." Several policemen reached the spot and managed to disperse the protesters after assuring them that their demands would be conveyed to the quarters concerned. One of the protesters told The Nation that the people sitting at the helm of affairs should take notice of the biggest land fraud case as well. "We had a dream of living under our own roof. We have been robbed of our belongings. We just appeal for justice and our plots," a female protester said. Another protester said, "We are being ignored because those who committed the fraud are more powerful." In addition to their regular protests on streets, the victims also took to the social media to raise their voice. "Stop new DHA projects before settling our plots," Haroon Toor demanded on a Facebook page. According to the Lahore DHA affectees' public group on Facebook, they have 3,753 victims as members. The project of modern housing was launched initially to accommodate the families of martyred soldiers and wounded soldiers by allotting them small plots. One of the accused persons is said to be Kamran Kayani, a brother of former army chief Gen (r) Ashfaq Pervaiz Kayani. Reportedly, Kamran Kayani of Elysium Holding and Hamaad Arshad of Globaco had offered their services to facilitate DHA in carrying out the project by acquiring land. However, both the companies failed to deliver any plots to soldiers or the families of martyrs despite the lapse of more than seven years. At one stage, DHA was left with no choice except to lodge a formal complaint against Kamran Kayani and Hamaad Arshad with NAB. Media reports in recent past suggested that the interior ministry does not seem to be interested in bringing back Kamran from abroad in the Rs15 billion scam . There are more than 11,700 affected persons registered with the DHA , which claims that Globaco - now known as Orange Holding Private Limited - had intentionally kept delaying the project and gave different options for more financial gains. [ASHRAF JAVED]

http://nation.com.pk/14-Jul-2017/dha-city-scam-victims-call-for-justice

.....................................................

یہ سات آٹھ سال پرانی بات ہے جب لاہور کی سڑکیں اور چوراہے ایک ہائوسنگ سوسائٹی کے رنگین اور انتہائی خوش نما فلیکس بورڈز سے اَٹے ہوئے دکھائی دے رہے تھے۔

جس طرف بھی نظر اٹھتی' سوسائٹی کے خوش کن بورڈز ہر گزرنے والے کو اپنی جانب کھینچ رہے تھے۔ آتے جاتے ہوئے لوگ ابھی ان فلیکس بورڈز کی رنگینیوں میں کھوئے ہوئے تھے کہ دو دن بعد میڈیا بیرون ملک مقیم ہزاروں پاکستانی گھرانوں تو کہیں ہمارے جیسے بے گھر افراد کو اپنی جانب کھینچنے لگا اور یہ سلسلہ چند ایک ہفتے نہیں بلکہ دو ماہ تک متواتر ٹی وی سکرینوں کی زینت بنتا رہا۔ان کو دیکھ دیکھ کر گھر والوں نے مشورہ دیا کہ ہمیں بھی یہاں دس مرلے کے دو پلاٹ لے لینے چاہئیں۔ موقع ملا تو ان میں سے ایک کو بیچ کر دوسرے پر گھر تعمیر کر لیں گے۔ سبھی اس خیال سے خوش ہو گئے۔ ہمیں تسلی اس بات کی بھی تھی کہ یہ کوئی فراڈ کمپنی یا سوسائٹی تو ہو نہیں سکتی کیونکہ اس کی ضمانت کیلئے اس کی شہرت ہی کافی ہے اور یہ تو ہو ہی نہیں سکتا کہ اس سے متعلق اداروں کو اس سوسائٹی اور اس کے کرتا دھرتا لوگوں کے بارے کوئی علم ہی نہ ہو۔

(DHA are under Army control, the prestigious institution of Pakistan)

لیکن آج دسواں سال شروع ہو چکا ہے' نہ تو کوئی پلاٹ ہے اور نہ ہی جمع کرائی گئی رقم واپس ملنے کی امید دکھائی دے رہی ہے۔




کوئی دو ماہ ہوئے پیغام ملا کہ لاہور پریس کلب کے باہر اس رہائشی سکیم کے ہاتھوں لٹے پٹے اوور سیز پاکستانیوں کی فیملیاں اکٹھے ہو کر حکام بالا کی توجہ مبذول کرانے کیلئے احتجاجی مظاہرہ کر رہی ہیں' آپ بھی اس میں شرکت کریں؛ چونکہ آپ کا تعلق میڈیا سے ہے ا س لئے آپ کے ہمارے ساتھ کھڑے ہو کر آواز بلند کرنے سے میڈیا کے دیگر لوگ متوجہ ہو کر بہتر کوریج کریں گے۔۔۔مقررہ وقت پر جب شملہ ہل لاہور پریس کلب پہنچا تو با عزت اور شریف گھرانوں کی خواتین و حضرات اپنے بچے بچیوں سمیت ہاتھوں میں پلے کارڈ اٹھائے بڑے بڑے نام والے لٹیروں کا ماتم کر رہے تھے۔ ان میں بہت سی ایسی فیملیاں تھیں جن کے شوہر بھائی اور والدین بیرون ملک مقیم تھے اور انہوں نے بھی دھوکے اور فراڈ کے اس میدان میں اس لئے بے خوف چھلانگیں لگا ئی تھیںکہ اس کی با قاعدہ منظوری اس وقت اہم شخصیت نے دی ہوئی تھی اور اس سے متعلقہ کسی بھی رہا ئشی سکیم میں فراڈ یا دھوکے کا امکان بہت کم تھا۔




لاہور پریس کلب کے باہر ایک دنیا تھی جو گزرتے ہوئے ہم سب کو دیکھ رہی تھی' کچھ لوگ رک رک کر پوچھتے تھے کہ یہ شخص کون ہے جس کا نام پلے کارڈز پر اس عبارت کے ساتھ لکھا ہوا ہے کہ( کامران کیانی )'' اسے واپس لائو'' جب انہیں بتا یا جاتا کہ یہ ایک اہم شخصیت (جنرل کیانی سابقہ آرمی چیف) کا عزیز ہے تو لوگ انگلیاں منہ میں دباتے ہوئے آگے بڑھ جاتے۔۔۔ چھوٹے چھوٹے بچے بچیاں اور ان کے والدین کوئی ایک گھنٹہ تک سخت گرمی میں پریس کلب کے باہر پلے کارڈ اٹھائے کھڑے رہے یہ سمجھتے ہوئے کہ ''شائد اتر جائے کسی کے دل میں ہماری منا جات''۔ لیکن آج اس بات کو دو ماہ سے زائد کا عرصہ گزر چکا ہے لیکن کسی ایک کے کان پر بھی جوں تک نہیں رینگ رہی۔ابھی تک ہم وہیں کھڑے ہیں اور ہمارا کوئی پرسان حال نہیں۔ ہمیں لگتا ہے ہم اپنے ہی ملک میں اجنبی ہیں۔ کیونکہ جب کوئی اپنا ہی ہمیں لوٹے گا اور کوئی انصاف دلانے کو بھی تیار نہیں ہو گا تو پھر ہمارے جذبات کو کوئی کیسے مجروح ہونے سے بچا سکتا ہے۔




وہ نہ جانے کون سی گھڑی تھی جب اپنے گھر کا خیال آتے ہی سب نے فیصلہ کیا کہ پہلے مرحلے میں ہی دو پلاٹوں کی درخواستیں جمع کرا دی جائیں۔۔۔۔ہائوسنگ سوسائٹی کا فارم مکمل کرنے کے بعد اپنی مزید تسلی کیلئے درخواست دینے سے پہلے اس ادارے کے ایک اہم افسر کے ذریعے مزید اطمینان کرتے ہی اگلی صبح اپنے بینک جا پہنچا اور دس مرلہ کے پلاٹ کیلئے درخواست فارم حاصل کرنے کے بعد متعلقہ رقوم کے پے آرڈر بنوا کر سوسائٹی آفس پہنچا اور پے آرڈر سمیت درخواست فارمز ان کے حوالے کرنے کے بعد باقاعدہ رسید حاصل لرلی اور پلاٹ کے حصول کیلئے انتظار کرنے والوں کی قطار میں جا لگا۔




ہر تین ماہ بعد ایک لاکھ دس ہزار روپے اقساط کی صورت میں سوسائٹی کے اکائونٹ میں بطور پے آرڈر جمع کرانے شروع کر دیئے اور ایک دن وہ بھی آیا جب ان کی جانب سے واجب الادا تمام رقم ان کے کھاتے میں جمع کر ادی گئی جس کے چند ماہ بعد الاٹمنٹ لیٹر بھی مل گیا جس میں خوش خبری دیتے ہوئے بتا یا گیا کہ چونکہ آپ درخواست دینے والے ابتدائی افراد کی فہرست میں آتے ہیں اس لئے آپ کو بغیر قرعہ اندازی کے دس مرلہ کا پلاٹ الا ٹ کر دیا گیا ہے جس کا نمبر آپ کو جلد ہی دیا جائے گا۔




یہ خوش خبری سنتے ہی اس دن کا انتظار کر نا شروع کر دیا کہ اب جلد ہی ایک پلاٹ بیچ کردوسرے پلاٹ پر گھر بنانے کے بعد کرائے کی زحمت اور ہر دو چار سال بعد نیا گھر ڈھونڈنے کی زحمت سے بچ جائیں گے کیونکہ کرائے پر روز روز گھر بدلنے سے جہاں اخراجات کا ضیاع ہوتا ہے وہاں قیمتی وقت برباد ہوتا ہے اور ذہنی تنائو بھی بڑھتا ہے۔ ہم کچھ اور ہی سوچ رہے تھے کہ ایک شام دھماکہ خیز خبر ملی کہ یہ تو فراڈ سکیم نکلی ہے جس کے کرتا دھرتا لوگ پاکستان اور اس سے باہر وطن عزیز کو اربوں ڈالر کا زر مبادلہ دینے والوں کی سب جمع پونجی لوٹ کر بھاگ چکے ہیں ۔۔۔وہ رات نہ جانے کس طرح آنکھوں میں کاٹی اور اگلی صبح جب اس جگہ پہنچے جہاں اس رہائشی سکیم کا بہت بڑا خوش کن بورڈ لگایا گیا تھا تو آنکھیں پھٹی کی پھٹی رہ گئیں کہ وہاں تو کسی شے کا نام و نشان ہی نہیں تھا اور جب اس کے دفتر پہنچے تو بتایا گیا یہ یہاں سے شفٹ ہو چکا ہے۔۔۔آپ سب لوگ فلاں جگہ جائیں اور جب وہاں پہنچے تو بتا یا گیا کہ شور مت کریں اور گھر بیٹھ کر انتظار کریں لیکن وہ انتظار ہے کہ اس قدر طویل ہوچلا ہے کہ دن مہینے اور مہینے سالوں میں تبدیل ہوتے جا رہے ہیں لیکن انتظار ہے کہ ابھی تک ختم ہونے کا نام ہی نہیں لے رہا۔۔۔ کبھی نیب لاہور کے دفتر دھکے کھاتے ہیں تو کبھی اس دن اور گھڑی کو کوسنا شروع ہو جاتے ہیں جب اس رہائشی سکیم کی منظوری دینے والے کے نام پر اعتماد کرتے ہوئے اپنی عمر بھر کی کمائی سے محروم ہو ئے۔ طاقتوروں کے ہاتھوں میرے جیسے ہزاروں لوگ اپنی عمر بھرکی جمع پونجی گنوائے بیٹھے رو رہے ہیں۔




کچھ عرصہ قبل کوئی رات دس بجے میرا چھوٹا بیٹاگھر آنے کیلئے ڈیفنس فیز ایٹ کے قریب گزر رہا تھا کہ دو موٹر سائیکل سواروں نے روک کر اسے لوٹنا شروع کر دیا' نادان بچے نے مزاحمت کی کوشش کی تو اس کے سر پر پتھروں اور مائوزر کے دستے اس طرح مارے گئے کہ وہ بے ہوش ہو گیا۔ چند منٹ بعد وہاں پہنچنے والی ڈولفن فورس نے اسے ڈیفنس کے نجی ہسپتال پہنچایا جہاں ملک کے دو بہترین ڈاکٹروں طارق صلاح الدین اور کمال صدیقی نے اس کے دماغ اور آنکھوں کے علیحدہ علیحدہ آپریشن کئے۔۔۔لیکن بد قسمتی سے وہ عمر بھر کیلئے دائیں آنکھ کی بینائی سے محروم ہو چکا ہے۔۔ ہسپتال میں علاج کے بھاری اخراجات کا قرض اور ہائوسنگ سوسائٹی کے فراڈ کا دکھ عمر کے اس حصے میں نڈھال کر گیا ہے۔ سوچتا ہوں کس کس سے ماتم کروں؟...!!

( منیر بلوچ )

منیر بلوچ ایک مشہور جرنلسٹ ہیں- دنیا اخبار میں ان کالم تسلسل سے پبلش ہوتا ہے- آپ ایک محب وطن لکھاری ہیں جن کی تحریروں میں پاکستان اور پاک فوج سے محبت اظہار ہوتا ہے- دہشست گردی کے خلاف جنگ ہو یا کشمیر میں مسلمانوں مظالم آپ کا قلم سچ لکھنے سے نہیں رکتا- سیاسی وابستیوں سے بلند آپ کرپشن کے خلاف کھل لکھتے ہیں- افسوس کہ آپ اپنی زندگی کی جمع پونجی" ڈی ایچ اے لاہور سٹی پراجیکٹ" میں انویسٹ کر کہ لٹ گۓ- ان کا ٩ نومبر ٢٠١٧ کا کالم پڑھ کر بہت افسسوس ہوا، جو اس تحریر کو پوسٹ کرنے کا محرک ہے- مصنف نے نقصان کے باوجود فوج یا DHA کا نام نہیں لکھا(بریکٹ میں خود لکھا ہے )، جس کی ایک وجہ فوج کی عزت کا خیال یا پھر اخبار کی طرف سے دباؤممکن ہو سکتا ہے-

خواہش اور کوشش ہے کہ معصوم شہریوں کو ان کے پیسے واپس ملیں یا پلاٹ اور مجرم اپنے انجام کو پہنچیں- (آفتاب خان )




This gentleman deposited his life time savings ... but robbed...his wife suffered heart attack ...




Hilal Ispr

Pakistan Defence

Munir Ahmed Baloch

#Corrupt #Corruption #Landmafia


References/Links:

~ ~ ~ ~ ~ ~ ~ ~ ~ ~ ~ ~ ~ ~ ~ ~ ~ ~ ~ ~ ~
~ ~ ~ ~ ~ ~ ~ ~~ ~ ~ ~ ~ ~ ~ ~ ~ ~
Humanity, Knowledge
, Religion, Culture, Tolerance,
Peace
انسانیت ، علم ، اسلام ،معاشرہ ، برداشت ، سلامتی
Books, Articles, Blogs, Magazines, Videos, Social Media
بلاگز، ویب سائٹس،سوشل میڈیا، میگزین، ویڈیوز,کتب
سلام فورم نیٹ ورک
Peace Forum Network
Join
Millions of visitors:
لاکھوں وزٹرز میں شامل ہوں